I've started using Pinboard a couple of years ago and have soon become a real fan of the website. It does everything I need: storing and organizing links I want to remember in the future, without all the social madness that services seem to be crazy about these days. I also admire Maciej's business model and Pinboard is one the few services that I'm confident with using for the years to come.
While the website is very minimal it lets you find your stuff in a very efficient manner. The website's design has practically not changed since its inception and it has actually been for the best. Pinboard does one thing and it does it well!
However, having been in love with the Mac for a long time I was starting to miss having a strong Mac client to create and manage my bookmarks, in an efficient manner that only a native application can provide.
So a couple of months ago, I started to work on a side project that I'm proud to announce today: Spillo for Mac!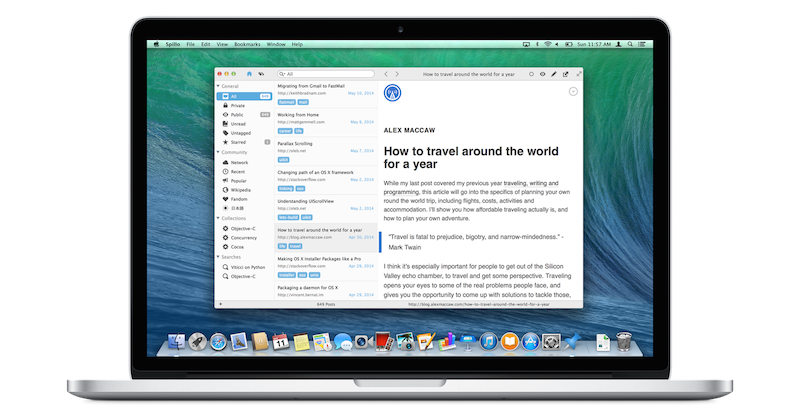 In a nutshell, Spillo is a powerful, beautiful and amazingly fast Pinboard client for OS X. Spillo lets you browse and organize your bookmarks in a stunning modern interface. Spillo also makes creating a bookmark from anywhere on your Mac as convenient as possible.
Spillo is available today for $9.99 on the Mac App Store or directly from our website.
If you would like to give Spillo a try, a 14-day demo is available on the Bananafish Software website.
I hope you will enjoy using Spillo as much as I do!